Phorum is the student organization for students of Rhetoric and Professional Communication (RPC—our PhD program) and Rhetoric, Composition, and Professional Communication (RCPC—our MA program). We host a variety of events throughout the year, including our Speaker Series where we hear from scholars in the field, and fun social activities. Check out our News page to see what's been happening recently!
What we do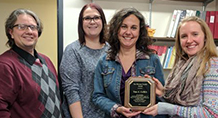 Phorum acts as a professional group that evaluates, organizes, implements, and develops services that meet the professional and academic needs of graduate students. The group serves as the primary channel of communication between the rhetoric graduate students and rhetoric faculty, especially to address issues and concerns expressed by rhetoric graduate students. The group also supports the development of leadership and communication skills of its members.
View or download the Phorum Constitution.
2020–2021 Cabinet
President: Amanda Arp
Secretary: Esther Crompton
Treasurer: Thomas Cox
Faculty Liaison: Allison Durazzi

Role descriptions
Phorum Travel Grants
Traveling to a conference soon? Check out this page to learn how to apply for a travel grant.